There are many things that make Buenos Aires, the capital city of Argentina, so special. This magnificent city is a combination of engaging cultural heritage, outstanding architectural features, a vibrant art and creativity scene, breathtaking parks, a pulsating nightlife, and friendly locals which you can experience by taking a free walking tour. These attractions have made Buenos Aires an immensely popular city to explore by tourists and thrill seekers. So what are some of the experiences you can expect to have while you are in the city? Take a look.
Take part in some sensual dancing
One of the must-do activities, while you are in Buenos Aires, is to learn the sensual dance, that is the tango. Buenos Aires is renowned as the tango capital of the world, with tango shows being staged frequently in the city. To fully immerse yourself in the cultural aspects of the dance, find a milonga, a place where locals and tourists alike gather to dance and indulge in drinks, as well as watch other dancers. If you crave the more traditional version of the tango dance, head on over to Carichulo on Saturday nights for a memorable extravaganza. For those that prefer to watch experts take part in this elaborate dance, you can make a stop at the Barrancas de Belgrano Park on Sunday nights.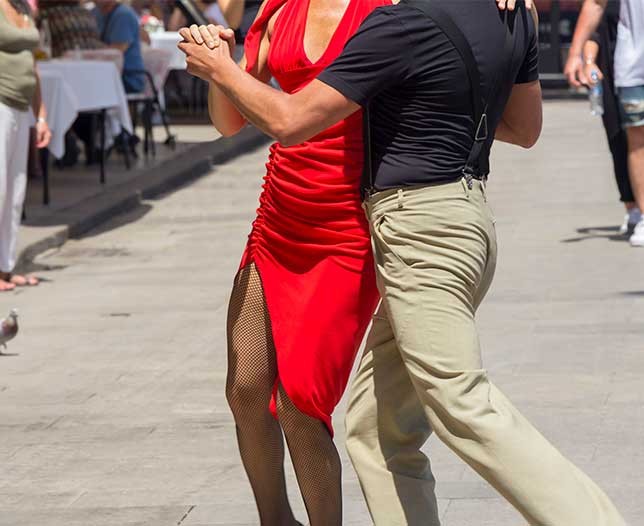 Enjoy scrumptious meals and delicious wines in world-class restaurants
The culinary options in Buenos Aires are limitless, with some of the most acclaimed restaurants being situated in the city. There are numerous steakhouses (parrillas) sprinkled all over the city, and if you are not too squeamish about street food, you can enjoy some delicious beef in one of the makeshift barbecue stalls. Otherwise, opt to visit one of the many commercial steakhouses where you can order anything from costillas (ribs) to pollo (chicken). Wash down these delicacies with the local Malbec, and finish off your meal with the tasty alfajores (chocolate cookies)
Relax and unwind in the beautiful parks
The agreeable climate of Buenos Aires makes it ideal for a nice day out at the park. Take in the sunshine and take a walk down the footpaths of The Rosedal, or opt to ride pedalos on the lake in the area on a Sunday. The Reserva Ecologica Costanera Sur is an expansive nature reserve in Buenos Aires where you can take a peaceful stroll, hire a bike or take part in birdwatching. Afterward, enjoy a picnic with your loved ones in the evening as you watch the sunset.
Party the night away in an upscale nightclub
There are many prime spots in Buenos Aires for a spectacular night out. The Palermo neighborhood is especially favored by revelers who love the diverse array of bars and nightclubs which boast various themes from jazzy joints to lively electronic music spots. The ambiance in all these areas is warm and extremely friendly, and you can blend in even further by indulging in the popular Fernet, the alcohol of choice for many patrons.
Explore the colorful neighborhoods in the city
There is no shortage of uniqueness when it comes to the neighborhoods in Buenos Aires. La Boca is a vibrant neighborhood where you can expect to witness tango dancers showing off their craft on the streets, and houses bedecked in bright colors. Additionally, La Boca is home to La Bombonera, where matches involving the renowned Boca Juniors are frequently held. If you are an art enthusiast, you will especially enjoy exploring Caballito and Colegiales, where thought-provoking street art created by a diverse group of artists is displayed.
Immerse yourself in the culture
The Buenos Aires culture draws influence from a wide variety of European cultures (British, Italian, and French), along with inspirations from Asia and Africa. The architecture of the city is an interesting combination of contemporary styles and more historical and traditional designs. Take a walk on the lovely cobbled streets of the San Telmo neighborhood, and later on make a stop at the Feria de Mataderos, where you can enjoy the spectacular traditional horsemanship displays.
Buy souvenirs from a market in the city
The largest street market in South America, San Telmo Feria, is located in Buenos Aires. You can enjoy the live shows put on by tango dancers and musicians as you shop for various trinkets to take back home with you. There are the intricate Patagonian knives, the well-crafted leather belts, and the most fascinating antiques.
Buenos Aires is a captivating place to spend your holiday or trip, with a myriad of activities and places to visit that will definitely make your stay worthwhile. There is definitely something for everyone.